May 22nd, 2020 | by sembrodesigns | Posted in Uncategorized

What makes a house into a home? Home is a place where you can feel safe and comfortable. Many people say that home is where the heart is. Whether it is a small apartment or a two-story in the suburbs, home should enable you to be yourself and express yourself freely.

Let us think back to when we were first looking around at potential homes to buy, or apartments to rent. Do you remember the different options? What stood out to you in the blur? I remember what stood out to me… the kitchens.
Often, the kitchen is the determining factor when someone is interested in buying a house. That initial "WOW" factor really leaves an impression! Okay, lets say you're not crazy about the kitchen but decide to get the house anyway… "I'll fix it later". Many of our clients have completely redone their kitchen right after purchasing. Others have waited for the funding and other factors to fall in place, and then take that step. Whatever works for you is best!
Many people are planning on moving on from their homes eventually. So when it comes to that time, you want to improve and upgrade the house for resale. Most of the time, remodeling the kitchen will improve the value of your home. Lets look at the statistics involving kitchens in home buying.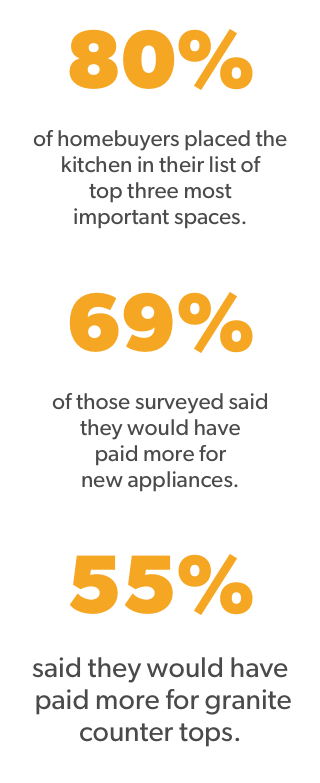 People are willing to pay that extra money for special features in the kitchen! It is worth considering adding a few simple features to get the return on your investment. A few thoughtful improvements will really allow your house to stand out among others for potential buyers.
So is it worth it?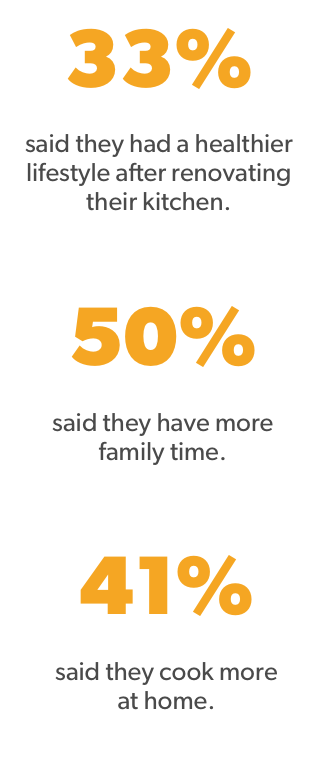 EVEN IF you do not get much money back when you resell, renovating the kitchen can be a great investment for you and your family. You want to feel comfortable in your space. Updating the kitchen area will enable you to recreate the space however YOU want and based on YOUR needs.
Kitchen renovations/ remodels can be very overwhelming and stressful. Finding the right contractor and kitchen designer is a big leap of faith. We have heard numerous clients who've had bad past experiences with irresponsible contractors and project disasters. As a company, we know how overwhelming the process can be. We take it upon ourselves to help you and be there with you every step of the way.
Reference links: https://www.angieslist.com/?CID=SEM.E001.P003.M002.G002.V000.C000.X000.Y000.Z000&kw_id=79027424136983&c_id=79027444545552&gatc=be&entry_point_id=32981418&s_kwcid=c-e-kwd-79027424136983:loc-190-angie%27s%20list-_kenshoo_clickid_&iv_=__iv_m_e_c_79027444545552_k_79027424136983_w_kwd-79027424136983:loc-190_g_1264438421241700_n_o_e__h_60801_ii__p_2_b_be_d_c_vi__&entry_point_id=32981418&msclkid=99346fc26358183136cb31025c527f4f https://www.daveramsey.com/blog/how-will-a-kitchen-renovation-affect-value